Exterior Painting Equipment: The Key to a Stunning Finish
Jan 25
Painting the exterior of a building can be a difficult task that requires the use of certain tools and techniques to get a flawless effect. Everyone in the home renovation industry is aware that painting a home's exterior can be a difficult task. To ensure that your final result looks professional and lasts for years, you must stick to painting best practices.
The correct equipment makes exterior painting projects simpler, quicker, and more professional looking. A quality finish is vital to the overall aesthetic and functionality of your home, and using the correct equipment can help protect your investment and give the impression that a professional painted your home. This article will discuss the different available exterior painting equipment and how they may be used to produce a faultless finish.
Types of Exterior Paint Equipment
There are a multitude of solutions available for exterior painting equipment. Paintbrushes, rollers, spray guns, and ladders are the most often used instruments. Brushes are available in various sizes and forms and can be used on both tiny and large surfaces. Rollers are ideal for larger surfaces and can aid in accelerating the painting process by covering more area more quickly. Spray guns are used to apply a uniform finish to big surfaces and are ideal for siding and fencing. In addition, ladders are required to reach heights and angles that cannot be reached with a paintbrush.
Choosing the Appropriate Exterior Painting Equipment
It can be difficult to select the proper tools for a job. Evaluation of the area to be painted is the initial step. Measure the surface to determine the amount of paint required for the project. Knowing the material you're working with might help you select the most appropriate equipment. Next, select the appropriate finish type. For instance, a brush or roller is typically preferred to a spray gun if you prefer a smooth finish. Examine the type of paint and fabric you are using to complete the painting project. Ensure that you purchase the proper size, shape, and material type for the project.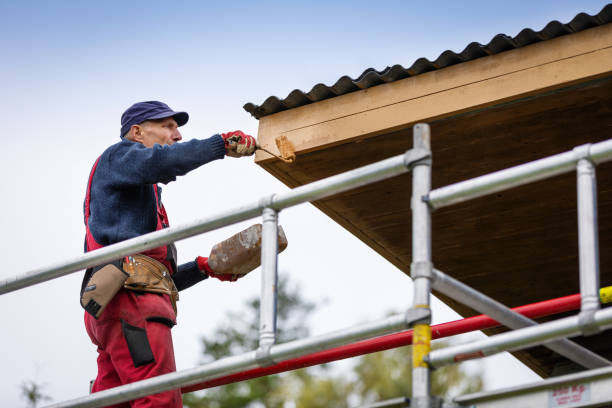 Advantages of Quality Exterior Painting Equipment
Utilizing high-quality exterior painting equipment has numerous advantages. Quality tools are more resilient, simpler to use, and produce a superior result. As they can cover more surface area and lower the amount of work required to paint, high-quality equipment also expedites the completion of the task. In addition to having longer warranties, quality tools can be utilized for several tasks. Utilizing superior tools can save time, money, and aggravation.
Affordable Exterior Painting Equipment
DIY projects are a great way to save money, but if you're on a tight budget, you still have a number of options. Hardware and home improvement stores are very useful for purchasing inexpensive tools, such as a paint roller and roller screen.
Many paint-related equipment, including paint brushes, paint rollers, sprayers, and roller screens, are sometimes available in discounted bundles. It is always worthwhile to check rates online; by comparing costs, you may be able to find the greatest discounts. Home upgrades need not be financially prohibitive!
Consider Additional Accessories for Exterior Painting
There are more accessories to select in addition to the painting equipment. For instance, drop cloths protect the area from drips and spills. Painter's tape is excellent for protecting windows, siding, and trim against paint. Extension poles are also necessary for accessing these inaccessible places. Finally, ladders or scaffolding can be the most effective means of accessing elevated regions.
Safety Precautions
Safety is crucial while painting the exterior of a building. It is always a good idea to read the safety instructions for the tools you are using, as well as any manufacturer-issued safety regulations and standards. Consider wearing suitable clothing, footwear, and gloves while painting as precautionary steps. Additionally, it is essential to utilize the proper protection equipment, such as safety glasses, dust masks, and earplugs. Lastly, when working with ladders or scaffolding, exercise caution and ensure that the equipment is properly secured before climbing.
Painting Large Exterior Surfaces: Advice
Large external surfaces might be difficult to paint. Even if loose paint or old, flaking paint is present, sufficient surface preparation is required. Before commencing the painting process, it is vital to apply a priming layer to assure success. Consider utilizing a spray gun for larger surfaces; however, remember to perfect your technique beforehand. Don't forget the drop cloth when you are ready to begin painting! Placing it underneath your work can safeguard the area from any drips or spills. Consider applying painter's tape on any edges or angles that require it. These methods will aid in ensuring that your painting project turns out perfectly.
How to Paint High or Difficult-to-Reach Places
In terms of difficult-to-reach regions, painting a house can be challenging. Utilizing the proper equipment is vital to attaining effective outcomes, which requires attention and patience. A ladder, extension pole attachment, and scaffolding should be considered when completing a house-painting project requiring high or difficult-to-reach areas. Using them correctly can not only improve your painting skills and help you achieve a gratifying outcome, but it will also improve your safety.
How to Paint Rounded or Sloping Surfaces
The application of paint to curved or irregular surfaces requires patience and the use of the proper brush. Professional painters use brushes with straight bristles to apply paint in tight places. Typically, rollers are unsuitable for this task because they can produce an uneven surface. To achieve greater results, painters must use long, light strokes and paint all surfaces' angles. Applying superior finishes to these surfaces is simple with a little practice!
Common Errors to Avoid When Painting the Exterior
Exterior painting can be an arduous and time-consuming endeavor, and there are several common mistakes to avoid. One of the most frequent errors is choosing the wrong paint for the project. Choose a paint that is designed exclusively for the area you are painting. A second error is improperly preparing the surface. This involves cleaning and fixing any portions that have been harmed. Lastly, failure to use the proper equipment for the work can result in an uneven result or wasted time and effort.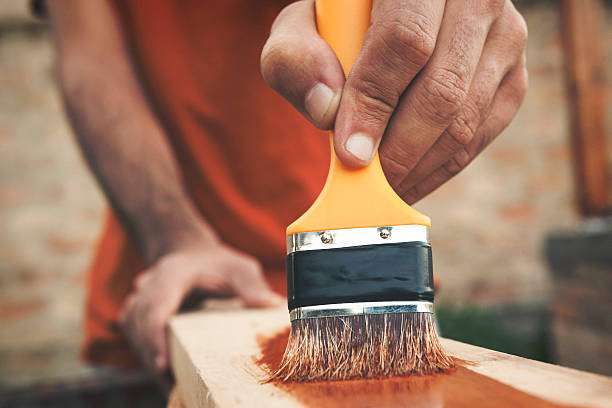 Cleaning Exterior Painting Equipment
Cleaning exterior painting equipment is an essential step in the procedure. It is essential to clean the instruments after each use to preserve their integrity and prevent paint from drying and hardening. Use warm soapy water and a scrub brush to remove any excess paint from the tools. After they have dried, they are suitable for storage and reuse.
Storage Instructions for Exterior Painting Equipment
When storing materials and equipment for external painting, it is essential to maintain them organized and in good shape. Before storing the tools, it is necessary to first clean and dry them. Then, the tools must be stored in a dry, well-ventilated environment. This will assist in keeping the tools in good shape and ready for use when they are required again.
Newest Innovations in Exterior Painting Equipment
In recent years, home exterior painting equipment has undergone a revolution. With the development of battery-powered spray guns, applying latex paint has become even simpler without losing quality. Moreover, extended ladders are now commonly available, allowing access to even the highest points of two-story homes, so no location is inaccessible. Additionally, telescoping poles with various attachments make accessing difficult-to-reach areas a breeze!
Even paint rollers have vastly improved, with some types now offering variable speeds for more precise application. To conclude, a pressure washer should be used before to painting to guarantee optimum adherence when the latex paint dries for optimal results. Exterior painting is now easier and quicker than ever before, thanks to technological advancements in tools.
To get a flawless finish while painting the exterior of a building, the proper equipment and methods must be used. A quality finish is crucial to the appearance and usefulness of a home, and utilizing the proper equipment may help protect your investment and make your home appear as though it was painted by a professional. This article explored the many exterior painting tools available and how they can assist in achieving a flawless finish.
In addition, tips for painting huge and difficult-to-reach surfaces were included. The article concluded with a discussion of the upkeep and advancements of external painting equipment, as well as professional painting's best practices.
If you're looking for more ideas about this topic, feel free to read this blog post from Harmony Painting.