Expert Advice for Exterior House Painting: Achieving a Professional Appearance
Jan 25
Exterior painting is an exciting investment that has the potential to change your entire property and make it appear newly remodeled. Because it is one of the most appealing improvements you can make to your home, every homeowner wants their exterior to look its best, regardless of the age of their home. The advantages of exterior painting extend far beyond the visual benefits alone.
A professional finish involves knowledge, talent, and a few pointers from an expert. Knowing the proper procedures, tools, and materials can make a significant difference, save time and money, and produce an excellent outcome. Following are tips for painting the exterior of a home to get a professional appearance.
Preparing the Exterior of Your Home for Painting
Taking the time to prepare your home for painting is vital to achieving a quality result. This involves more than simply inspecting the walls; you may need to pressure wash, sand down any rough spots, or caulk to ensure that the surfaces are smooth and uniform. Unchecked, dirt, dust, and filth can accumulate on the walls, ruining the paint work and costing you more money if it needs to be repainted. The good news is that preparing your home for painting will provide you with a solid foundation for a successful job and ensure that everything looks flawless when you're done.
Protecting Adjacent Areas
It is essential to take the time to prepare for both indoor and outdoor painting. Be cautious to cover any nearby plants, bushes, or trees before beginning. Install plastic sheeting or tarps around surfaced areas, such as pathways and driveways, and window casings to protect them from paint splatter and debris. Taking a few extra minutes to prepare beforehand might save a great deal of time when it comes to cleanup.
Cleaning the Sidings
It is crucial that the surfaces of your home be clean of filth, dust, grime, and stains before you begin painting. You can use a pressure washer or a gentle detergent with a soft-bristled brush to remove extra dirt from crevices. In order to guarantee that the area is entirely clean and residue-free, you should also rinse it well with clean water.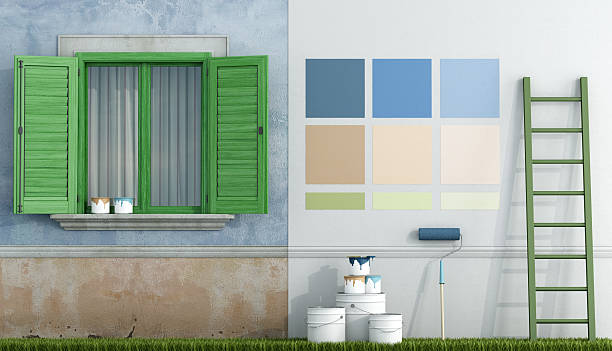 Selecting the Correct Paint Color
The outside of your home is the first thing people notice when they visit your property, so it's crucial to choose a paint color that compliments the architecture and landscaping. You do not want to select a color that you will regret in a few months. Examine several color samples and examine how the color will seem in different lighting conditions. Many companies also provide color swatches that you may take home and use to picture how various hues would look against your siding.
Choosing the Right Type of Paint
Choosing latex, oil-based, or alkyd paints for the outside of your home can be time-consuming and costly. Depending on the age of your home, the amount of layers to be painted over, and the sort of surface you're working on, choosing the right paint can be a difficult task. To assist you in making an informed decision, it is best to consult a paint expert. Whether it is a paint store specialist or a professional painter, they will be able to assist you in selecting the appropriate latex, oil-based, or alkyd paints for your property.
Prior knowledge of the sort of surface you are working with and the age of your home can help you narrow down your alternatives. With their help and direction, you can be confident that the exterior paint you choose for your home meets your demands and budget.
Protective Equipment
Painting the exterior of your home is a large undertaking that necessitates the use of safety equipment to prevent injury. Safety should always be a top priority while painting the exterior of a building, thus it is essential to have all the proper safety equipment.
Wearing a dust mask, safety goggles, and rubber gloves will protect your skin and eyes from paint splatters. In addition, it is advisable to wear long pants and a long-sleeved shirt to avoid becoming painted by brush strokes or drips. Finally, avoid painting on windy days, when paint particles are more likely to move through the air or coat.
Preparing the Exterior
Painting outdoor surfaces is an excellent method to revitalize the appearance of your property and give it a lively attitude. But before you begin, you must prime the exterior of your property using a substance made exclusively for external surfaces.
Priming the outside has a number of advantages, including enhanced adhesion, protection from the environment, and sealing of any stains that may interfere with the fresh paint. Taking the effort to select an exterior primer and following all manufacturer's directions can help you get excellent coverage and extend the life of your exterior paint colors.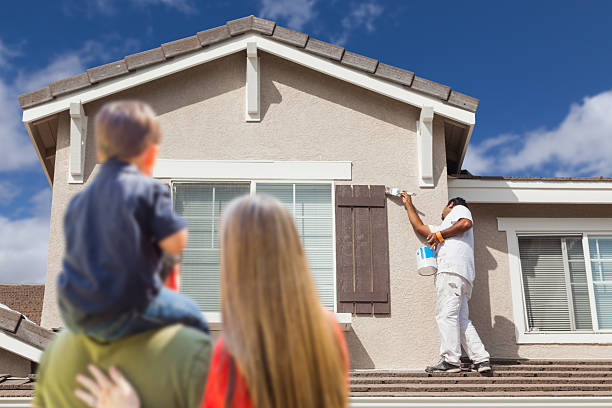 Understanding Paint Sheen
When selecting paint for outside surfaces, it is essential to be familiar with the term "paint shine." A paint sheen is a measurement of how glossy a painted surface will appear once it has dried. Oil-based paint with a semi-gloss or high-gloss finish is ideal for this purpose. The long-term advantage of these finishes is that they are more resistant to moisture and grime than other sheens, making them easier to clean and more durable outside. Choosing the proper paint sheen can ultimately make or break an outdoor finishing project.
Proper Application of Paint
Applying outside paint may appear to be a simple process, but it requires considerable skill. Too much paint might result in drips and runs, while too little can generate lap marks. It is always advisable to contact a professional to ensure that the project is done correctly and will last for years. If you prefer to perform the task on your own, there are certain skills you must master for success. Mix the paint in its container prior to use, begin at the wall's margins and work inward; use even strokes with a brush or roller, and apply numerous thin coats as opposed to too much paint in too few coats. Regardless of the sort of paint you're using, you can achieve excellent results with the right approach.
Equipment for the Job
It is crucial to use the proper exterior painting equipment while painting the exterior of your home to ensure that the task is done correctly and promptly. Particular tools, such as brushes, rollers, and sprayers, can make a significant impact when it comes to painting. Ensure you have the necessary tools for the job and clean them after each usage to keep them in good condition.
Understand When and How to Sand
Sanding is a crucial step for ensuring a smooth and even application of paint and ensuring appropriate adhesion. Use the appropriate grit of sandpaper to prevent surface scratches, and sand only between paint applications. Sanding is an essential, time-consuming procedure that is well worth the effort to produce a high-quality finish.
Modifications and Repairs
It may seem like an accomplishment to complete an exterior painting project, but it's crucial not to overlook the details. Verify any places that may have been overlooked, such as loose paint, holes, or accidental bleed-through stains. Use exterior-grade putty to replace any holes or missing pieces if necessary. All of these elements contribute to the aesthetic appeal of the home's façade, so be sure to conduct a comprehensive inspection and overlook nothing! Taking your time with the finishing touches and exerting effort can help you keep a lovely outside and give your property a "recently finished" appearance to observers!
Filling up Cracks
Caulk can be used to seal small cracks, gaps, and holes around windows, doors, and siding to prevent drafts and water from entering your home. Before you begin painting, you must caulk so that the paint has a smooth surface to adhere to. Choose a caulking substance that is ideal for outdoor applications from the multitude of options available.
Preparing Your Home for Winter
Painting the exterior of your home is only the beginning; you must also seal and prepare your home for winter. Check for gaps around windows, doors, and siding, and caulk, patch, and seal any that you locate. This will prevent drafts and keep your home warm and comfy throughout the winter.
Painting the exterior of your home is an exciting and satisfying endeavor that may enhance the appearance and value of your property. If you take the time to do it correctly, you can get a professional finish and obtain the desired results. Following the aforementioned guidelines and having the necessary knowledge, equipment, and materials will guarantee a successful and happy paint job. With a little amount of effort and attention to detail, you can guarantee that your home will continue to look wonderful for years to come.
Feel free to read this blog post from Harmony Painting to get more ideas about this topic.